New Strider Game?
Alright. This is a lot, so here goes.
So earlier this week, there was a leak of Steam information that showed achievements for a hidden game. Those achievements showed Hiryu in his scarf design (or his Marvel Vs. Capcom design, if you will). These seem to have since been taken down. Further proof from the Steam side of things is a user has been linked with the leaked information, and on their friends list is a user with the name of a developer from Double Helix Games.
Oh, it gets even better.
Apparently before this, a NeoGAF user had found a boxart and banner on XBLA for a Strider game. If this doesn't mean something, I don't know what does.
The best part? Capcom has announced that they're revealing two mystery games at PAX East, which starts tomorrow. According to their streaming schedule, the first one will be shown at 1:15 PM, and the second at 2:00 PM. So, we could have a new Strider game announced this weekend.
Personally, I'm staying enthusiastic about the whole thing. The discovered information makes it sound likely. But in any case, we'll find out tomorrow.
Posted by Kenny on March 21, 2013 16:27 EST
---
Strider Hiryu Chapter 3 Released!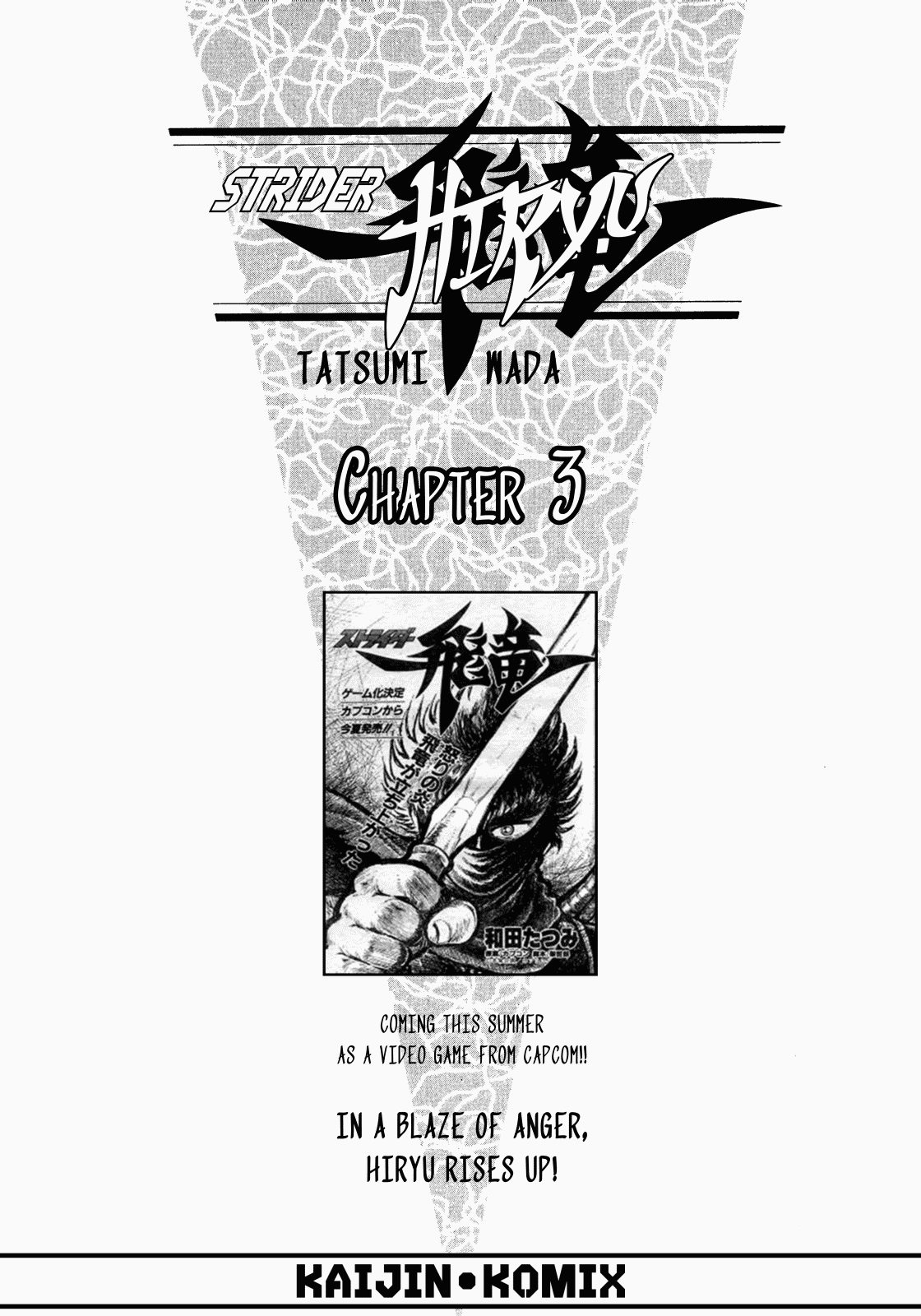 Happy New Year everyone! Hope you all have been doing well.
Kaijin has completed Chapter 3 of the Strider manga! Check it out here. As always, many thanks to Kaijin and the rest on the project for making this possible. You guys rock!
That's about it for now. But, there has been a lot of discussion lately about the future of this site, and there could be some new things in store for the LSCM soon. Stay tuned!
Posted by Kenny on January 23, 2013 20:19 EST
---
Let's go crazy!!
A few months back, it was revealed on Capcom Unity that Marvel vs Capcom Origins would be available to play on the Xbox 360 and Playstation 3. It will contain two fighting games: Marvel Super Heroes and Marvel vs. Capcom: Clash of Superheroes.
New features will include online gameplay with 8-player lobbies, spectator mode, graphic filters, dynamic challenges, and the ability to save replays. You can find this bundle on the Playstation Network for $14.99 (September 25) and in the Xbox LIVE Marketplace for 1200 Microsoft Points (September 26).
Posted by Pikachu on September 24, 2012 2:51 EST
---
Late Strider News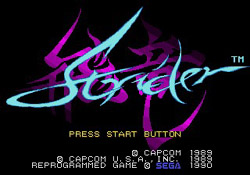 Really late updates here. My apologies. It's been too long, Hope everyone has had a good year so far.
First thing is that Genesis Strider has finally released for the English Virtual Console on Febuary 16th. Capcom Unity link here. Pretty good news! I hope this also leads to other releases, such as Strider 2 for a PSOne download.
Second is a discovery from a few weeks ago: Assets have shown up from a canceled Strider game from Grin. A teaser and some art can be viewed from the gallery there. It's pretty early stuff, but there's not a whole lot there that screamed "Strider." Still pretty interesting that they were trying.
That's all for now. Catch you all later.
Posted by Kenny on March 8, 2012 16:00 EST
---
Ultimate Marvel vs. Capcom 3 update
Hello everyone, Pikachu here. I hope you all had a great Christmas! It's finally beginning to get chilly here, but nothing like a hot cup of peppermint cocoa can't fix. Images of Ultimate Marvel vs. Capcom 3's boxart has been uploaded in the boxart section.
A small page about the new DLC mode called Heroes & Heralds has been created as well. I shall try to update it later on. In the meantime, please have a happy and safe New Year~
Posted by Pikachu on December 31, 2011 14:48 EST
---
Strider Hiryu Manga Update
The second chapter of the Strider Hiryu manga is finally up. I also did a few minor corrections to the first chapter, so that has been updated as well. I apologize for the delays but things have been busy the past few months. Hopefully everything will calm down soon and I will have more time and energy to work on the next chapter. I'd like to thank Eventhubs for the shout out and link to the project on their site, as well.
Anyway, that's all from me. Now go read the next chapter!
Posted by Kaijin on November 20, 2011 19:00 EST
---
Genesis Strider to be Released on Virtual Console!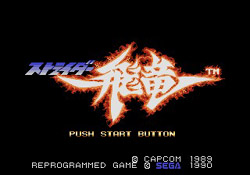 Apologies for not updating with this sooner, but that's right! The Genesis/Mega Drive port of the original arcade game is being released on Japan's Wii's Virtual Console service. While Siliconera (thanks to Scion for pointing this out) claims that it's release date is in December, Famitsu (thanks to Sombra) says the release date is November 15. This also happens to be the release date for UMvC3 (also thanks to Sombra for pointing this out). Coincedence? Maybe. Or maybe not. It wouldn't be the first time that interest was spurred in the original series to to an entry in the MvC series.
No word on when or if this will hit in other countries, but I'm going to say that the chance is pretty high. I don't think Capcom would make this a Japan exclusive. I'll make a post if I hear anymore information about the subject.
In other news, Kaijin's about nearing completion of Chapter 2 of the manga! He told me he'll update himself when he posts it. Stay tuned on that! And thank you Kaijin for all your hard work!
And as a last side note, sorry things have been running slow on here. Strider news has overall been slow lately, and I've been a bit busy myself to update around the site. There's a few things I want to add (like a cosplay I asked permission for, apologies if you read this), but I want to fix a bit of the layouts to the pages first. I don't know when I'll get to that, but rest assured, the LSCM is never, and never will be, dead. It just hides for a while, because it's a ninja, right? Check out the Citadel, because there's usually activity there everyday, and I'm on the IRC daily. Drop me a line sometime!
That's it for now. Smell you guys later.
Posted by Kenny on November 17 23:15 EST
---
UMvC3 Updates!
Slowly starting to update the page a bit. During the Tokyo Game Show (TGS), Ultimate Marvel vs Capcom 3 has been confirmed for PS Vita. It will come out in Japan on December 17, 2011. The release date for North America and Europe is in early 2012.
As for information regarding boxart. It will be double-sided so you can either display the artwork of Shinkiro (he made the boxart for Marvel vs. Capcom 3: Fate of Two Worlds), or Mark Brook's of Marvel comics design. The initial artwork showing on the box will be from Shinkiro, but it will be up to the owner's choice on which to display. Choices choices~ :)
Posted by Pikachu on September 23, 2011 20:58 EST
---
MvC3 Section Updates
Hello, Pikachu here. Now that Hiryu has finally been announced in the new installment of Ultimate Marvel VS. Capcom, its time to update! I will be gradually updating the new Marvel VS. Capcom 3 page.
From the looks of the video, he still appears to be a quick character. Even his options and the super move Legion comes out with very little delay. From what I have seen it appears that he will have two lvl3 super moves: Ragnarok and Ouroboros. This is a first! More will come later, perhaps as long as more media/gameplay with him is revealed. Or maybe during November. I cannot wait to try this out. =)
Posted by Pikachu on July 26, 2011 13:03 EST
---
Surprise!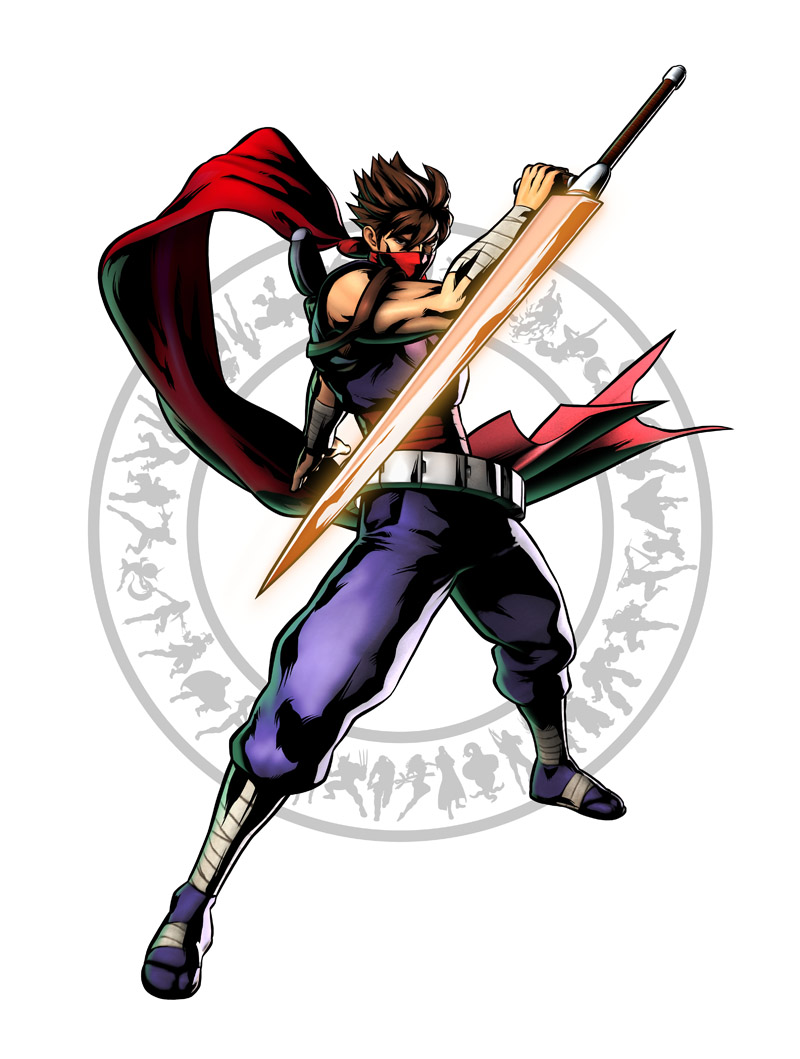 Look who finally decided to show up.
Apologies for being late about this. Two days ago, Capcom announced Ultimate Marvel vs Capcom 3. Apparently the pleas of Strider fans and MvC fans were heard, because our boy Hiry's been added. As much as an iffy move this was and how he wasn't added in the first place, I still am happy that he's at least in now. He's got his old moveset it seems, and I'm personally hoping they add a few more things, such as his Midare-Giri from Strider 2. But wait, that's not all! Hiryu's going to have an alternative outfit in the game: his classic appearance from the original game. You can see it here. Thanks for the link to the picture, Suzaku.
I'm glad he's in at least, like I said. The voice actor could stand to be better, though. And my intense Mega Man fanliness is screaming at the lack of a Mega Man represenative once again. But at least they did one thing right.
Another thing I wanted to mention is, about a month ago, Scion found that Harumi Fujita recently surfaced on Twitter. She's the one who did the music for the NES Strider. We're looking for a person who can translate interviews, and some good questions. You can check out the Citadel topic here. Contact Scion if you'd like to help!
That's about all for now. Catch ya guys later.
Posted by Kenny on July 22, 2011 15:40 EST
---