Review | Screenshots
Assassin on the Amiga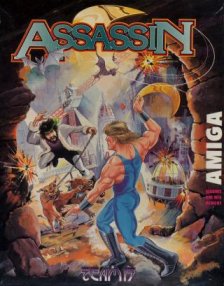 YEAR: 1992
SYSTEM: Amiga
DEVELOPER: Team 17
PUBLISHER: Psionic Systems
I have never played this game. Ever. But when I happened across it while browsing through The VG Museum, its gameplay seemed so strikingly similar to Strider that I had to give it a second look. It bore all the tell-tale signs of a genuine Strider clone, right down to the blue spandex.
You can slide. You can jump. You can climb on damn near everything. And you can run really, really fast. The main character (who is apparently so secret of an agent that he is not even named in the manual) is animated fluidly and stylishly, and is little more than a direct homage *cough*RIPOFF*coughcough* to our man Hiryu.
In fact, when viewing screenshots or videos of this game, one can only wonder whether its programmers intended to rip Moto Kikaku off, or whether they meant to pay tribute.
It's difficult to say. Either way, this game has moments where the player stops and stares at the screen in disbelief. Not because of the graphics, but because of the undeniable similarity of the current scene to a classic Strider scenario.
The most notorious one that comes to mind is a scene that is highly reminiscent of Strider's second level. Remember the vertical passageway just past Mecha Pon, the one with the blade tanks? Yeah, that's been recreated, complete with identical blade tanks. And I do mean identical.
All right, I suppose I can give you the main plot now:
The evil Midan, tyrant of the highest order, lies hidden deep in his underground lair. Allied security forces demand his reign to cease, one man is needed, that man is you.
That's it. I'm serious. That's how much backstory this game has. The original Mario game had more backstory than this.
So, with that, our assassin plunges into action, knowing only that he is needed. My question is, how do they call on him if he doesn't have a name?
In 1994, the creators of this game re-released it in a "special edition", beating George Lucas to the punch by a good five years or so. Unlike Lucas's special editions, Assassin SE improved much about this game. Or so I've heard. Something about giving him a gun instead of a boomerang, and changing his fashion sense a bit.
Whatever. I have no recommendation for this game. I honestly can't tell you whether to go get it or not. What I will say is that I have no desire to play it, whatsoever.
You make your own choice. Me, I just review these things.
Review | Screenshots